Written by Rupert Zeng | Reading time of 2 mins
Monopoly Live is currently one of the most popular live casino games in the UK market due to its ease of play, excellent graphics and potential for big wins. The combination of the wheel of fortune-esque wheel combined with the popular Hasbro board has been a major hit for UK punters.
This Monopoly live review will instruct you on how to play Monopoly Live and will give you all of the information you need on this fantastic live dealer casino game. The team here at Top Live Casinos have tested Monopoly Live at several different online casinos, so we will also advise you where the best place to play is. If you already know how to play but are looking for some Monopoly Live tips, please see our guide to the top Monopoly Live strategies.
THE BEST MONOPOLY LIVE CASINOS
HOW TO PLAY MONOPOLY LIVE
Monopoly Live is an immersive live casino game which offers plenty of fun. In order to get the most out of the game, it is imperative that you understand how to play Monopoly Live before you begin playing.
First of all, we would like to illustrate the fact that Monopoly Live can be played 24/7 – it never stops. There is always a live dealer, albeit they work in shifts. Monopoly Live allows you to play alongside other players whereby all punters bet on a spin of the wheel. Here's how to play Monopoly Live in several simple steps:
1. Go to the live casino lobby of your chosen casino and click on Monopoly Live.
To get started, simply open up your live casino lobby and search for Monopoly Live. Click the game to begin.
2. How to place your bets
Monopoly Live offers players six betting options. Players can bet on four different numbers and on two different bonuses. The minimum bet when playing Monopoly Live is £0.10 with the maximum bet being £1,000. Players can also bet on the 'Chance' segments. if the wheel lands on Chance, then the player will win either a cash prize or a multiplier bonus. To participate in the bonus game, players must bet on '2 Rolls' or '4 Rolls'. If the wheel lands on either of these then the bonus game will begin. The bonus game features a 3D Monopoly board. The dealer will roll two dice up to four times, and Mr Monopoly will land on one of the properties from the regular Monopoly board game. Each property awards different prizes.
3. Spin the Wheel
You have 12 seconds to place your bets before the wheel is spun. We recommend taking some time to watch the gameplay before placing your first bet. This way, you can get a feel for the game before you place a real money bet.
4. The wheel lands
When the wheel comes to a stop, the flipper will land on a segment. the players which bet on that segment will win. If you placed a bet on a number, your bet will be multiplied by the number. The wheel may also land on the bonus game segment. If you placed a bet on either the segment '2 Rolls' or '4 Rolls' you will begin the bonus game.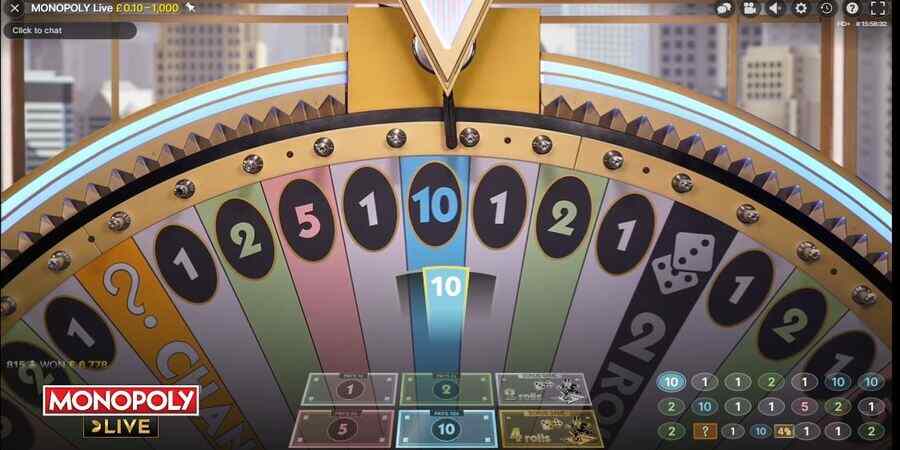 5. The bonus game begins
You will now see a 3D monopoly board with Mr Monopoly walking across it. Mr Monopoly will build multipliers on the board in the form of houses and hotels and then the dice are thrown by the live dealer.
2 Rolls: The dice are rolled at least two times to move Mr Monopoly across the board.
4 Rolls: Dice are rolled at least four times.
Any doubles rolled result in an additional roll of dice.
6. Monopoly Live Bonus game prizes
'Go To Jail' – a double must be rolled to get out of jail. All previous bonus winnings remain.
'Pass Go' – all future prizes are doubled.
'Chance' or 'Community Chest' – rewards either a cash prize or a fee.
'Income Tax' and 'Super Tax' – winnings are reduced by 10% and 20% respectively.
Monopoly Live Payouts
Below is the payout table for Monopoly Live:
| | | |
| --- | --- | --- |
| SEGMENT ON WHEEL | NUMBER OF SEGMENTS | PAYOUTS |
| 1 | 22 | 1 to 1 |
| 2 | 15 | 2 to 1 |
| 5 | 7 | 5 to 1 |
| 10 | 4 | 10 to 1 |
| Chance | 2 | Random cash prize/multiplier |
| 2 Rolls | 3 | Bonus Game |
| 4 Rolls | 1 | Bonus Game |
Monopoly Live RTP
The Monopoly Live RTP changes depending on the bet. However, the optimal theoretical return to player percentage is 96.23%. Monopoly Live is included on our guide to the highest RTP live dealer casino games.
| | |
| --- | --- |
| BET | RTP |
| 1 | 92.88% |
| 2 | 96.23% |
| 5 | 91.30% |
| 10 | 96.02% |
| 2 Rolls | 93.90% |
| 4 Rolls | 93.67% |
MONOPOLY LIVE: GAME INFO
Monopoly Live is one of the jewels in the Evolution gaming crown. Ranked as the best of all Evolution Live casino games by the Top Live Casino's team, it is live streamed from the Evolution Gaming studios which are located around Europe. Their studios are equipped with the top of the range technology, essential for live casino games which contain 3D elements to them, such as Monopoly Live.
Each game is hosted by a live dealer who spins the Monopoly Live wheel and rolls the dice once the Monopoly Live bonus game has been triggered. The bonus game is in 3D and is really quite remarkable. it has to be seen to be believed.
Monopoly Live offers several other features too including a live chat option where you can talk with both the dealer and other players.
GAME FEATURES
Monopoly Live is a variant of the Wheel of Fortune live casino game called Dream Catcher. The basic premise of Monopoly Live is predicting on which segment the wheel will stop.
There are 54 equally sized segments in total on the Monopoly Live wheel. The segment on which the pointer stops is the winning number.
Monopoly Live offers multipliers which are the segments with the numbers 1,2,5 and 10. Cash prizes are also available s a feature via the two 'Chance' segments. Finally, a bonus game is triggered when the wheel lands on either of the x3 '2 Rolls' or x1 '4 Rolls' segments.
Monopoly Live bets are made between rounds.
VIDEO PERFORMANCE
The Monopoly Live video stream is exceptionally high and is streamed in full HD. The 3D bonus game is regarded as one of the best features ever made by a casino games developer.
Monopoly Live works on all modern mobile and tablet devices. If you enjoy Monopoly Live, we can also recommend Monopoly Big Baller Live, which is another Monopoly themed game from Evolution Gaming.
TOPLIVECASINOS VERDICT ON MONOPOLY LIVE

"We love playing Monopoly Live. The bonus game is a showcase in just how far online casino technology has improved. Evolution Gaming remain the kings of live casino games and Monopoly Live is one of their best."

— TopLiveCasino's Live Casino Team
CONTRIBUTORS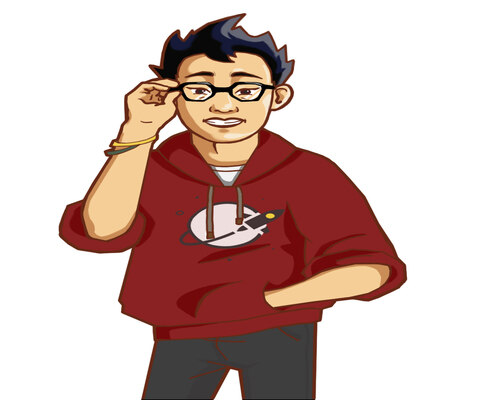 Greetings, I'm Rupert Zeng
Rupert Zeng is a recent graduate and is responsible for all the guides on TopLiveCasino. Rupert loves everything about the technical aspects of live casino games. He also loves coffee.
Technical analyst since 2022