Written by Rupert Zeng | Reading time 4 mins
Monopoly Big Baller is a live dealer casino game which incorporates aspects from both casino and bingo. Released in 2022, Monopoly Big Baller was one of Evolution's most anticipated live casino games of all time, but has it lived up to expectations? We would say so!
This Monopoly Big Baller review will give you everything you need to know about Monopoly Big Baller including how to actually play Monopoly Big Baller Live. The team here at Top Live Casinos have tested Monopoly Big Baller at several of the best live casino sites, so we can also advise you where the best place to play is.
LIVE CASINOS WHERE YOU CAN PLAY MONOPOLY BIG BALLER LIVE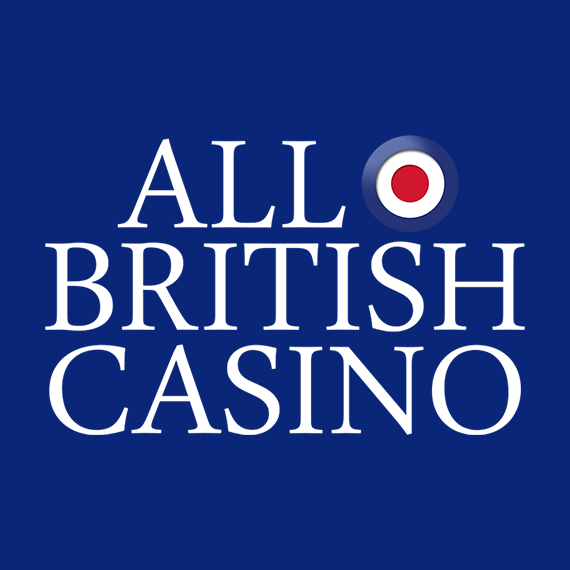 100% Live Casino Matched Deposit Bonus up to £100 + 10% Cashback on all losses
HOW TO PLAY MONOPOLY BIG BALLER LIVE
Live casino games can often be a little more complicated then your standard online slot games, for example. Most live casino games take a little bit of time to learn how to play, especially the more advanced ones such as Monopoly Big Baller. This is where we come in and can help you. Below, we have explained in simple steps the basics of how to play Monopoly Big Baller Live.
Go to the online casino live lobby of your choice and click/tap Monopoly Big Baller – To begin, simply register/login to your live casino account and head on over to the live games lobby. From the lobby, find Monopoly Big Baller Live and then click play.
Placing Bets – Monopoly Big Baller offers several different bets which can be placed during the games betting phase. In order to be involved in the game, you must first place a wager by choosing how many bingo cards to play with and whether to play any bonus cards. All active bingo cards will display randomly generated numbers.
The Bonus round may or may not be played – It is in the Monopoly Big Baller bonus round where the largest payouts can be won. If you have played Monopoly Live, you will quickly notice that this bonus game is very similar.
Winning are paid out – Everything will be done for you, if any of your numbers are drawn, then you will see a red dot placed on your bingo card over the corresponding number. If you make a line, you will be rewarded a payout based on the multiplier shown.
A new round begins – A new round of Monopoly Big Baller begins and once again you can choose what to bet on.
RULES OF MONOPOLY BIG BALLER LIVE
Live Monopoly Big Baller can be played 24/7 via specific online casinos in the UK. In order to win, players must pick any number of bingo cards to play with and choose whether to place bets on Chance or Free Space cards. Bet on 3 Rolls or 5 Rolls to have a chance of playing the bonus game which takes you to a 3D Monopoly board. Numbered balls are picked randomly by the ball drawing machine, if lines on your bingo card are completed, you will win.
Monopoly Big Baller bingo cards are 5×5. We recommend betting on a free space which will give you the opportunity to automatically check off the middle number on the 5×5 grid, thus increasing your chances of winning. You can place bets on the following:
Free Space Card – The centre cell is known as the 'free space' and this acts as a drawn number. Placing this bet increases your odds of making a line.
Chance card – You will not get any free spaces but the centre cell is guaranteed to have a multiplier. This gives you higher odds of having a higher payout if you do make a line.
Once the betting time is over, you will see Mr Monopoly pull the lever which will randomly generate the multipliers and free spaces on each of your bingo cards. Multipliers are engaged when a ball or several balls are drawn which correspond with the number on the card. There are three types of Chance multipliers which can be generated:
Standard (10x or 20x) – If you get a number with a standard multiplier and that number ends up forming part of a winning line, your winnings for that line are multiplied by that amount. A line can also include several standard multipliers, in such a case they are added together.
Line (20x or 50x) – If you get all the numbers and make a winning line that has a line multiplier, your winnings for that line are multiplied by that amount. If the same line also contains one or more standard multipliers, they are added up with the line before they are multiplied.
Global (2x or 3x) – If you get a number with a global multiplier, your winnings for all lines on the card are multiplied by this amount. The number with the global multiplier does not not need to be part of the winning line.
MONOPOLY BIG BALLER LIVE BONUS GAME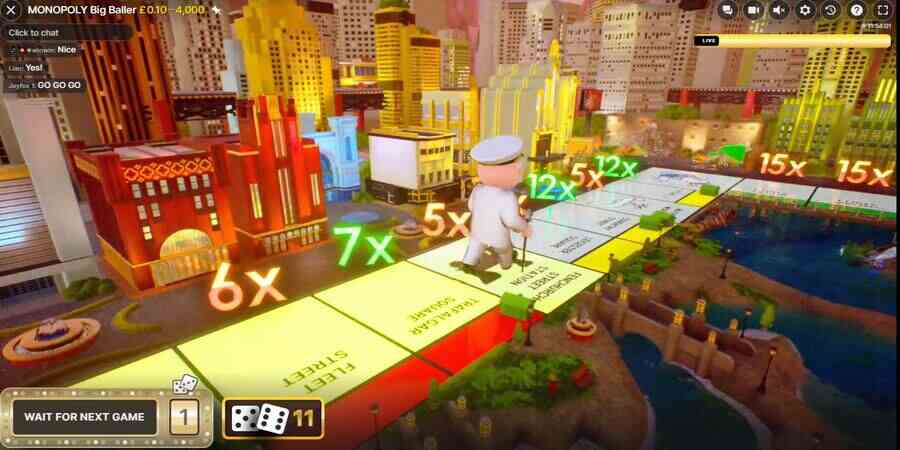 As aforementioned, to have a chance of taking part in the bonus round, you must place a bet on '3 Rolls' or '5 Rolls'. If all numbers for either bet spot are drawn (3 unique numbers for '3 Rolls' and 5 unique numbers for '5 Rolls'), you win that bet and the bonus game will start right after all 20 numbers are drawn.
The bonus game is played with two dice. If you won your bet on '3 Rolls' the dice will be rolled three times and Mr Monopoly will walk around the board collecting your cash and multipliers. If you won the bet on '5 Rolls' the dice will be rolled five times. If you placed a bet on both, then you will play the bonus game twice, one after the other.
The board in the bonus game has the same layout as a regular Monopoly board game board.
MONOPOLY BIG BALLER PAYOUTS
The base payout per winning card without any multipliers is 3x. The max payout for all your winnings in a single game-round is limited to £500,000.
| | |
| --- | --- |
| BET SPOT | PAYOUT |
| Free Space Card | 2-39:1 per line |
| Chance Card | 2-199:1 per line |
| 3 Rolls | Bonus Game |
| 5 Rolls | Bonus Game |
MONOPOLY BIG BALLER RTP (RETURN TO PLAYER)
The optimal theoretical RTP of Monopoly Big Baller Live is 96.10%. This is above average when compared to other casino games, but is around average in comparison with other live dealer games. We have outlined the specific RTP ranges for each bet for you below:
Free Space – 96.10%
Chance – 96.10%
3 Rolls – 95.80%
5 Rolls – 95.20%
LIVE MONOPOLY BIG BALLER: FURTHER GAME INFORMATION
If you are familiar with the standard rules of bingo and also the Monopoly Live casino, you should have no problem playing Monopoly Big Baller for real money.
GAME FEATURES
Features of Monopoly Big Baller include the following:
Multipliers
Live dealer
Bonus game
Autoplay
BETTING LIMITS
The minimum bet allowed in Monopoly Big Baller Live is £0.10 per bet. The maximum bet allowed is £4,000.
VIDEO PERFORMANCE
Developed and brought to us by Evolution Gaming, Monopoly Big Baller is filmed in a live studio with professional dealers using state of the art filming software. Monopoly Big Baller can also be played on mobile devices due to its excellent video performance.
For more information on Evolution Gaming and their games, please see our guide to Evolution Live games.
TOPLIVECASINOS VERDICT ON MONOPOLY BIG BALLER LIVE

"One of the newest live casino games from Evolution Gaming, Monopoly Big Baller is a unique game with a Monopoly theme and elements from live bingo, the team here give the thumbs up to Monopoly Big Baller Live."

— TopLiveCasino's Live Casino Team
CONTRIBUTORS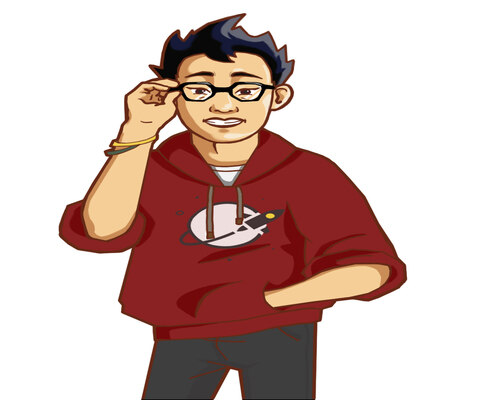 Greetings, I'm Rupert Zeng
Rupert Zeng is a recent graduate and is responsible for all the guides on TopLiveCasino. Rupert loves everything about the technical aspects of live casino games. He also loves coffee.
Technical analyst since 2022