Written by Rupert Zeng | Reading time 4 mins
Blackjack remains one of the most beloved online casino games. Live Blackjack allows players to play with other players and a live dealer from the comfort of their own home. This TopLiveCaisnos page will inform you on how to play Blackjack as well as where you can play live Blackjack online in the United Kingdom.
PLAY LIVE BLACKJACK HERE
HOW TO PLAY LIVE BLACKJACK
We have put together a step-by-step guide for UK gamblers informing you on how to play Live Blackjack. There is also an explanation on how to make bets as well as the RTP and maximum payouts of Blackjack live.
Login and go to the live casino section – Login to your live online casino of choice and go straight to the live casino section. Tap/click on Live Blackjack to get started. If you have not yet signed up to an online casino, our live casino reviews section should help you to find one.
Placing bets – There are numerous different bets which can be made when you play live Blackjack at UK casino sites. Live Blackjack usually has a minimum betting level of £1 and a maximum bet of £10,000.
The live dealers deals the cards – Once all bets have been placed, you will receive your cards and the game of Blackjack will begin. At this point, you can utilise different strategies and Blackjack techniques in order to give yourself the best possible chance of winning. If you would like to know more, then you can read our guide to the best Blackjack strategies.
Stand, split or hit – At this stage, you need to try and beat the dealer. Blackjack is a skill game but there is also luck involved. The dealer will help you out if you're stuck, but once you play a few round of live blackjack, you will quickly get the hang of what to do.
Winnings are paid out – Once the dealer has either been forced to stand, hit a blackjack or busted, all winning players are paid out.
A new betting round begins – A new betting round will now begin. Live Blackjack can be played 24/7.
RULES OF BLACKJACK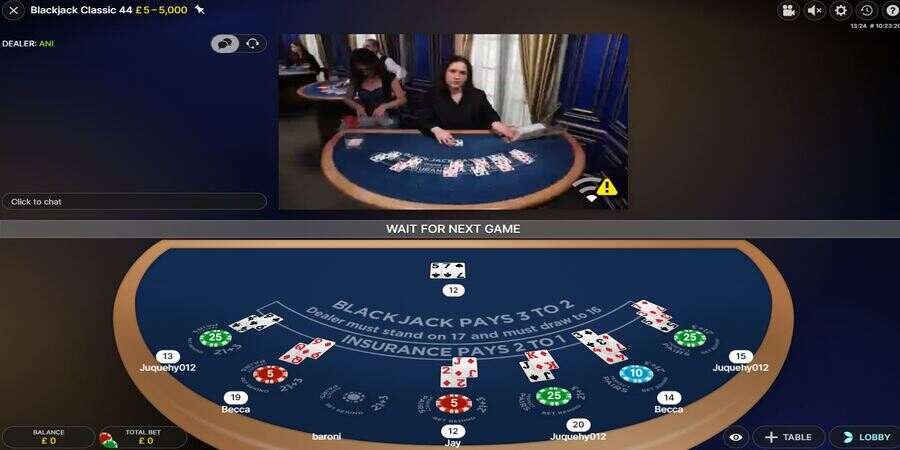 Live Blackjack is hosted by a live dealer and allows up to seven players to be seated at the table. The game is played with 8 52-card decks. Card follows in Blackjack are as follows:
Cards from 2-10 are worth their face value.
Face cards are each worth 10.
Aces are worth 1 or 11, depending on which is more favourable to the hand.
After the betting time has expired, the dealer deals one card face up to each player. The dealer then deals a second card face up to each player. However, the dealers second card is face down. The value of your hand is displayed next to your cards.
BLACKJACK
If the value of your first two cards is 21, you have a Blackjack, which means you win.
INSURANCE
If the dealers face up card is an ace, then you have the option to take an insurance bet to offset the risk that the dealer has a Blackjack. The purchase amount of the insurance is equal to 50% of your initial bet. The dealer than peaks at his hand to see if he has blackjack. If the dealer doesn't have blackjack then the round continues. If both you and the dealer have Blackjack, then your bet is returned. If you do not have Blackjack but the dealer does, then the dealers hand wins.
DOUBLING, HITTING AND STANDING
When the dealer does not have Blackjack, players have the opportunity to improve the value of their hands. If your hand value is not 21, you can choose to Double, this this will double your bet and only one additional card can be added to your hand. Alternatively, you can Hit to be dealt an additional card. You can hit as many times as you want, but if you go bust (over 21) then you are out and will lose your bet. You can choose to Stand once you are happy with the value of your cards.
SPLIT
If you initial hand is a pair of cards with equal value, you can decide to Split them to make two separate hands. Each will have a separate bet equal to your initial bet. You can improve the value of these hands by deciding to Hit. If you split a pair of aces, you will only be given one additional card to improve each hand.
OUTCOMES
If the sum of your hand exceeds 21, you bust and lose all your bets in that round. The dealer must always hit on a hand of 16 or less and must stand on a hand of soft 17 or more. A 'Soft Hand' includes an Ace worth 11.
The player wins if the value of their final hand is closer to 21 than the dealers or when the dealer goes bust. If the value of your hand finishes as the same as the value of the Dealers, then your bet is returned.
Blackjack is only possible using the two cards in the initial two-card dealers round. 21 from a split is not considered as a Blackjack.
LIVE BLACKJACK BETTING TYPES
Lots of different types of bets can be placed when playing live online blackjack. We have outlined all of them for you below:
SIDE BETS
Most Blackjack games also include optional side bets – Perfect Pairs and 21+3. You can place side bets in combination with your main Blackjack bets.
PERFECT PAIRS
This Blackjack side bet gives you the chance to win if your first two cards consist of any two pairs. There are three types of pairs which we have outlined for you below:
Perfect Pair – Identical cards e.g. two Aces of Spades
Coloured Pair – Different suits but the same colour – 3 of Diamonds + 3 of Hearts
Mixed Pair – Different suits and different colours – 9 of Diamonds + 9 of Clubs
21+3
This live Blackjack side bet gives you the opportunity to win if your first two cards plus the dealers upturned card comprise any of the following winning combinations:
Suited Trips – e.g. three Kings of Diamonds
Straight Flush – in numerical sequence and the same suit e.g. 10, Jack and Queen of Spades.
Three of a Kind – Same value but different suits e.g. any three non matching Queens.
Straight – Numerical sequence but different suits e.g. 5,6,7 all of different suits.
Flush – Non sequential cards of the same suit e.g. 5,6 and 10 of Hearts,
LIVE BLACKJACK PAYOUTS
Below we have detailed all of the payouts you can expect when you win playing Live Blackjack for real money. We have included the payouts for side bets too.
Blackjack pays 3:2
Winning hand pays 1:1
If the dealer has Blackjack, Insurance pays 2:1
Perfect Pairs
| | |
| --- | --- |
| HAND | PAYOUT |
| Perfect Pair | 25:1 |
| Coloured Pair | 12:1 |
| Mixed Pair | 6:1 |
21+3
| | |
| --- | --- |
| HAND | PAYOUT |
| Suited Trips | 100:1 |
| Straight Flush | 40:1 |
| Three of a Kind | 30:1 |
| Straight | 10:1 |
| Flush | 5:1 |
LIVE BLACKJACK RTP
The optimal return to player (RTP) of Live Blackjack is 99.29%. However, the RTP of the Perfect Pairs bet is 95.90%. The RTP of the 21+3 bet is 96.30%.
LIVE BLACKJACK: FURTHER GAME INFO
Live Blackjack is one of the simplest live casino games to learn and play. However, Blackjack is a skill game and is extremely difficult to master.
The RTP of Live Blackjack is the best of any casino game, so the casino has only the very slightest of edges. Live online Blackjack is one of the most played live casino games in the UK and can be played at any online casino site which offers live casino gameplay.
GAME FEATURES
The features of live blackjack are pretty basic. You will see a live table and a live dealer. Other tyes of live Blackjack offer further features.
DIFFERENT TYPES OF LIVE BLACKJACK
There are several different Live Blackjack variations. We have detailed them for you below:
Power Blackjack
Free Bet Blackjack
Infinite Blackjack
Classic Speed Blackjack
Classic Blackjack
Speed VIP Blackjack
Blackjack VIP
Blackjack Fortune VIP
VIDEO PERFORMANCE
The majority of live UK Blackjack tables online are developed and brought to you by Evolution Gaming. Evolution Gaming are the kings of live casino games and their technology is second to none. All Evolution Gaming live casino games, including Live Blackjack, can be played on smartphone and tablet devices.
TOPLIVECASINOS VERDICT ON LIVE BLACKJACK

"Evolution Gaming's Live Blackjack remains the most popular table game on the market for good reason. The classic game is more popular than ever and the skill element means that its a constant challenge for players."

— TopLiveCasino's Live Casino Team
CONTRIBUTORS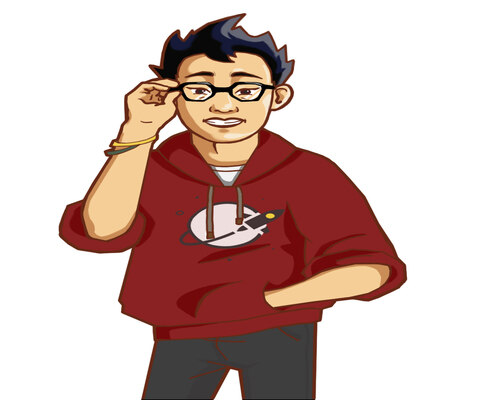 Greetings, I'm Rupert Zeng
Rupert Zeng is a recent graduate and is responsible for all the guides on TopLiveCasino. Rupert loves everything about the technical aspects of live casino games. He also loves coffee.
Technical analyst since 2022