Written by Rupert Zeng | Reading time of 2 mins
Dream Catcher Live is a live online casino game developed by Evolution Gaming. An extremely easy to play game which appeals to both seasoned casino players and novices, Dream Catcher Live is distinguished by its large wheel. This Dream Catcher Live review will inform you on how to play Dream Catcher Live and give you all of the intricate details which will help you to play.
WHERE TO PLAY DREAM CATCHER LIVE
HOW TO PLAY DREAM CATCHER LIVE
Dream Catcher live is an immersive game due to the live dealer aspect. In addition, it offers lots of fun thanks to the unpredictability of the wheel and the numerous payout features.
The Dream Catcher live casino game can be played at any time of the day or not. Online live casinos are available 24/7, so there will always be a game available with an accompanying live dealer. We have outlined below how you can begin playing Dream Catcher Live in several simple steps:
Go to the live casino lobby of your chosen online casino and find and click/tap Dream Catcher Live.
To begin, you just need to find the game in the casino lobby.
2. Placing your Bets.
Bets from £0.10 all the way up to £5000 can be placed on Dream Catcher live. You must simply place a bet on a number which you think the wheel will stop at: 1, 2, 5, 10, 20 or 40. The wheel will then be spun by the live dealer.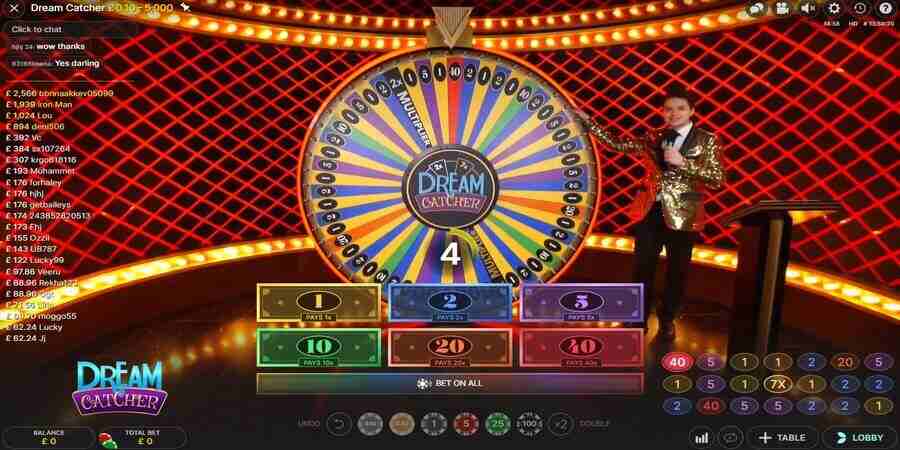 3. The Wheel Lands.
You have 12 seconds to place your bets before the wheel is spun. Once the wheel lands, winning players will be paid out depending on where the wheel has landed. Winnings are paid on a to one basis, with the odds matching the number in the winning segment. For example, a winning number 5 will pay 5:1, a winning number 10 pays 10:1 and so on. However, if the wheel stops on a multiplier segment, then all bets remain in place and no new bets allowed. The wheel is spun again and any winning bets will then have the respective multiplier applied. Multipliers range from 2x up to 7x the stake.
DREAM CATCHER LIVE PAYOUTS
Below, you will find the payout table for Dream Catcher Live:
| | | |
| --- | --- | --- |
| NUMBER ON WHEEL | NUMBER OF SEGEMENTS | PAYS |
| 1 | 23 | 1 to 1 |
| 2 | 15 | 2 to 1 |
| 5 | 7 | 5 to 1 |
| 10 | 4 | 10 to 1 |
| 20 | 2 | 20 to 1 |
| 40 | 1 | 40 to 1 |
| 2x | 1 | Multiplies the number of the next winning number by 2x |
| 7x | 1 | Multiplies the number of the next winning number by 7x |
Please be aware, winnings from a single game are capped and can keep multiplying right up until a win of £500,000 or 20,000x the bet.
DREAM CATCHER LIVE RTP
The Dream Catcher Live return to play (RTP) changes depending on the segment the wheel lands on. The theoretical return-to-player percentage is 95.65%. The TopLiveCasinos team have highlighted the different RTPs for you in the table below:
| | |
| --- | --- |
| BET | RTP |
| 1 | 95.24% |
| 2 | 95.31% |
| 5 | 90.42% |
| 10 | 95.65% |
| 20 | 91.80% |
| 40 | 89.88% |
DREAM CATCHER LIVE: GAME INFO
Dream Catcher Live is one of the more simpler live casino games from Evolution Gaming. However, the simplicity is not necessarily a negative component. Dream Catcher Live is played by both beginners and casino veterans because of its ease.
Each game is hosted by a professional live dealer who spins the wheel. The multipliers are where the big wins can be won, this is also where the majority of the excitement is held. The team here at TopLiveCasinos have ranked Dream Catcher as one of the top Evolution Gaming live dealer games in 2023.
GAME FEATURES
The basic premise of Dream Catcher is the huge wheel. This is a simple game so there is not many features other than multipliers. There are 54 equally sized segments to the wheel. The segment on which the pointer stops is the winning number.
Dream Catcher features two segments which offer multipliers of 2x and 7x. Bets are made in-between rounds.
VIDEO PERFORMANCE
The Dream Catcher Live video performance is top of the range like other Evolution Games. players have the option to choose their video quality which ranges from medium all the way up to HD and HD+. In addition, Dream Catcher Live works on both mobile, tablet and laptop devices.
TOPLIVECASINOS VERDICT ON DREAM CATCHER LIVE

"A deceptively simple live casino game, Dream Catcher Live offers a lot of fun thanks to its multipliers and easy to play aspect. A great introduction game for beginners, the TopLiveCasino's team can certainly recommend this casino game."

— TopLiveCasino's Live Casino Team
CONTRIBUTORS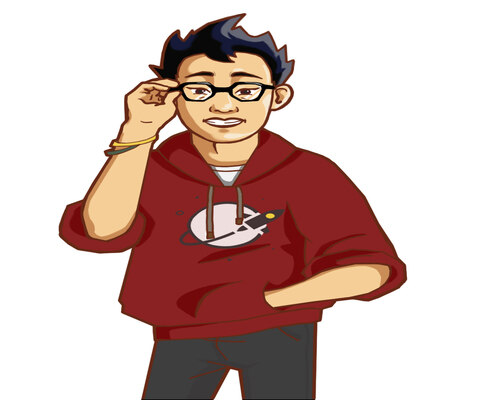 Greetings, I'm Rupert Zeng
Rupert Zeng is a recent graduate and is responsible for all the guides on TopLiveCasino. Rupert loves everything about the technical aspects of live casino games. He also loves coffee.
Technical analyst since 2022