Written by Rupert Zeng | Expected Reading time 5 mins
There are plenty of important factors to consider when choosing to play a live casino game. To begin with, you need to consider if you know how to play the game/if the rules are easy to understand. In our opinion, it is important to pick a game which instantly appeals to you. There's no point in playing one which instantly bores you or doesn't excite you.
An increasingly important aspect of a live casino game to consider is its return to player (RTP). The RTP is especially important for any player whose main reason for playing is to win money. RTP stands for return to player and is the theoretical amount of money which will be returned to the player.
I have decided that the following point must be met in order for a live casino game to be deemed a live casino game with a high RTP:
Any live casino game with an RTP of 96% or above we deem as a high RTP live casino game. It is these games at live casinos which offer the best value.
In the table below, you will find all of the live casino games with the highest RTP. In addition, we have also included where you can play each of the live dealer casino games with the highest RTP's. Following the table, we have written mini reviews of each of the live casino games where we go into a little more detail regarding the features as well as the advantages and disadvantages of playing these games.
TABLE OF THE TOP 10 HIGHEST RTP ONLINE LIVE CASINO GAMES
HIGHEST RTP LIVE CASINO GAMES IN 2023
The live dealer online casino games with the highest RTP are unsurprisingly extremely attractive to casino players due to the greater value for money they represent. Continue reading so that we can help you to discover which are the highest return to player casino games and where you can play and find the best RTP live casino games in 2023.
Here is our showcase of high RTP live online casino games:
1. VIDEO POKER JACKS OR BETTER (RTP: 99.56%)
Video Poker (Jacks or Better) is the closest live dealer casino game you will find to having an RTP of 100%. As you will most likely be aware, any casino game will always give a slight edge towards the house. However, Video Poker is the game which offers the smallest house edge, meaning that theoretically speaking, Video Poker (Jacks or Better) is the game which offers gamblers the best value for their money.
As well as its top notch RTP, Video Poker is a fun and exciting live dealer game which sees the players compete against the dealer rather than against each other. The majority of the top live casino sites will offer you the opportunity to play this game. We recommend familiarising yourself with the rules before playing, as there are a few minor differences from regular online poker.
Features:
High RTP
Live dealer
Side bets
Play at: Casumo Casino
100% Live Casino Matched Deposit Bonus up to £25 + 20 Sahara Riches Free Spins
2. LIVE DEALER BLACKJACK (RTP: 99.29%)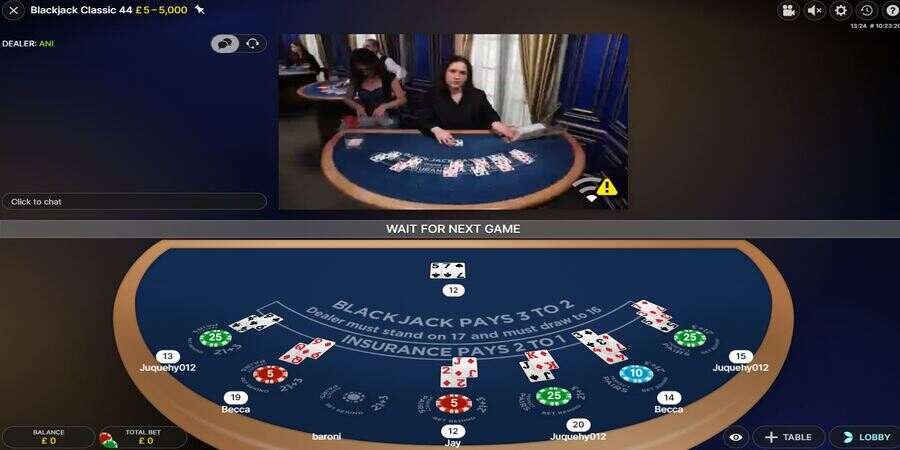 The most played live dealer casino game is Blackjack due to the strategy involved, the excitement it offers and of course, its extremely high RTP. Live dealer Blackjack is available at every online casino and comes in various different forms. It is the European version of Blackjack which offers the best value for money and thus the highest RTP of 99.29%.
In order to play at the optimal level, the TopLiveCasino's team highly recommend studying different online Blackjack strategies which will allow you to make the correct decision no matter what cards you have been dealt. One of the main advantages of Blackjack is down to the fact that it is a skill game. Unlike slot machines which rely on pure luck, a skilled online Blackjack player is able to make the best plays which are the most likely to generate wins.
Features:
Bet behind
Side Bet 21 + 3
Initial decision
Side Bet Perfect pairs
High RTP
Play at: Skol Casino
100% Live Casino Matched Deposit Bonus up to £100 + 100 Starburst Free Spins
3. LIVE CRAPS (RTP: 99.17%)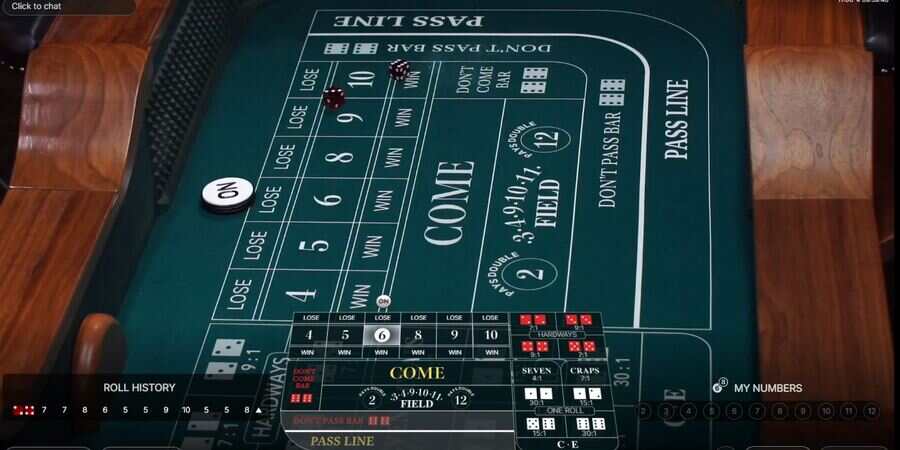 If you want to quickly witness how exciting a game of live dealer Craps can be, look no further than Rush Hour 2 which shows LAPD detective James Carter playing in Las Vegas. Live Craps really has a team feel to it. One player plays as the shooter and rolls two dice in order to try and beat the bank. The team aspect comes in the form of being able to bet with the shooter, so when one person wins, everyone can win at the same time.
With an incredibly high RTP of 99.17%, Craps is a game favoured by high rollers and VIP players. In addition, it is possible ot bet up to £1,000 per hand when playing Live Craps online.
Features:
Live Dealer
High RTP
Easy to learn
Side bets
Play at: Casumo Casino
100% Live Casino Matched Deposit Bonus up to £25 + 20 Sahara Riches Free Spins
4. LIVE DEALER BACCARAT (RTP: 98.94%)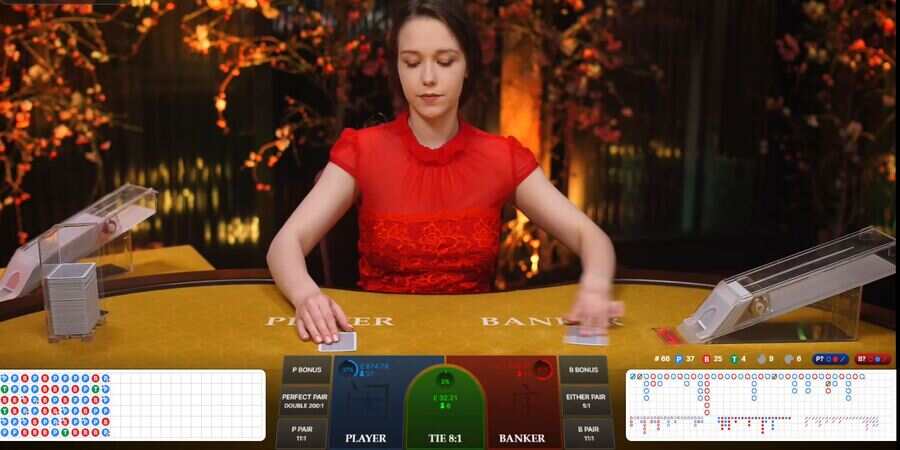 James Bond's favourite casino game, Live Baccarat is a luck based card game which involved a great deal of excitement. Not a game for the faint hearted, in Live Baccarat your objective is to beat the dealer (also known as the banker). One major advantage of Live Baccarat is how easy it is to learn and play. If you are keen on learning how to play, we can recommend reading Casino Royale by Ian Fleming which gives you an entertaining rundown on the rules.
With an RTP of 98.94%, Live Dealer Baccarat is an excellent value for money casino game which also offers lots of excitement as well as class. It is available at most online casino sites due to its popularity and ease of play.
Features:
High RTP
Side bets
In-game tutorial
Play at: Hyper Casino
5. LIVE CASINO HOLDEM (RTP: 97.84%)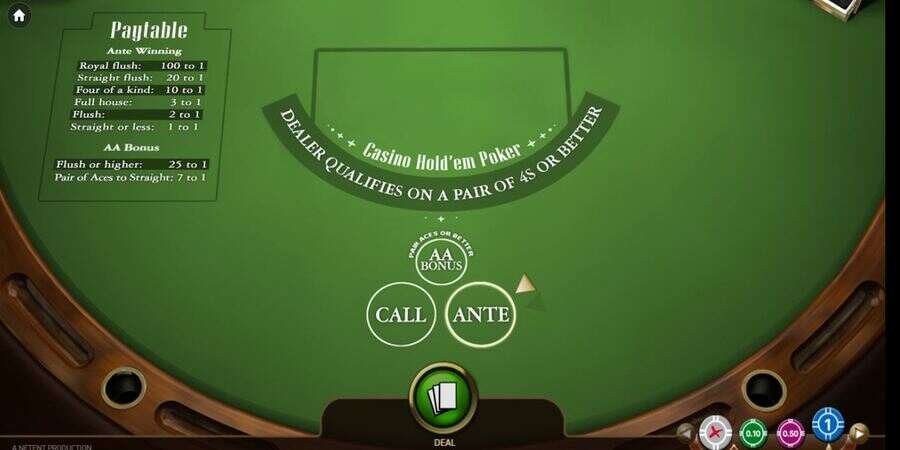 Very similar to regular Texas Hold'em Poker with the exception that all players play directly against the dealer rather than each other, Live Casino Hold'em is an easy to play and learn online poker variation. We recommend sticking to the bets which simply involve beating the dealer. It is possible to bet on Royal flushed and straight flushes, for example, but the payouts for hitting one of these is no where near good enough for you to consider betting.
There are plenty of variations of Live Casino Hold'em and pretty much all UK online casinos will have this game in their libraries.
Features:
High RTP
Jumbo 7 Jackpot Bet
Bonus Bet
Play at: PlayOJO Casino
6. LIVE ROULETTE (RTP: 97.30%)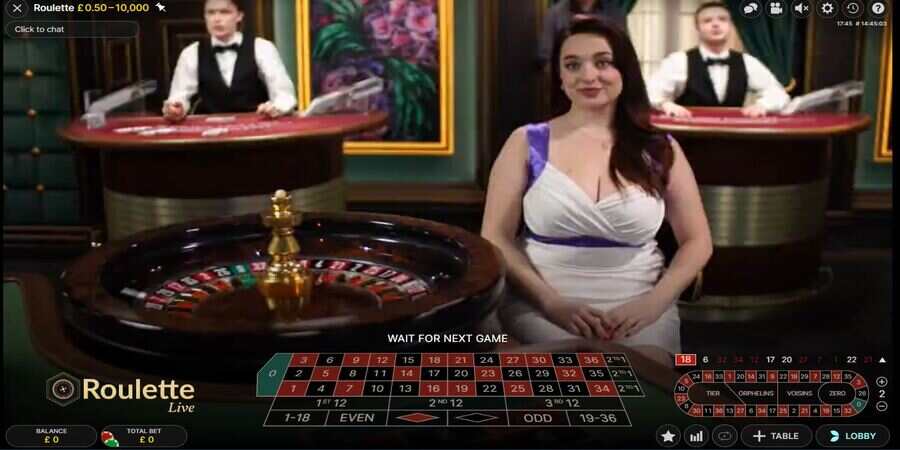 Arguably the easiest game to play on this list, Live Roulette also has a very competitive RTP of 97.30%. Like with Live Blackjack, there are several Live Roulette strategy guides which have been written in order to help you win money playing Roulette. Of course, Live Roulette is mainly based on luck and it is impossible to predict where the roulette wheel will land.
With that being said, Live Roulette remains an immensely popular live game and is one of the oldest casino games in history. If you plan on playing Live Roulette, make sure that you are playing a version which gives you an RTP of as close to 97.30% as possible.
Features:
Neighbor Bet
Special Bets
Favourite Bets
Play at: Casumo Casino
100% Live Casino Matched Deposit Bonus up to £25 + 20 Sahara Riches Free Spins
7. LIGHTNING ROULETTE (RTP: 97.30%)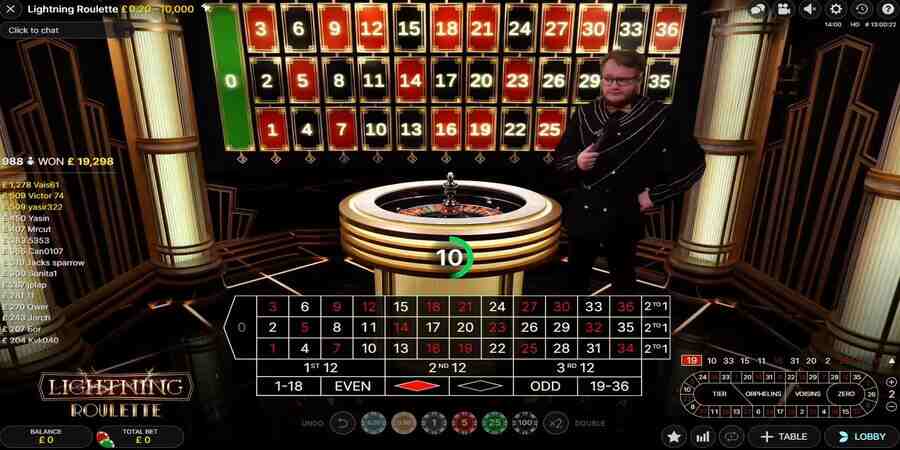 A modern live casino game which utilises sophisticated technology, Lightning Roulette attempts (and succeeds) on making the classic Roulette casino game even more exciting and unpredictable. The unique selling point of Lightning Roulette comes in the form of Lightning numbers. Whilst the Roulette wheel is being spun, a lightning strike will randomly strike up to five random numbers on the wheel. Any number which is struct is automatically granted a multiplier of up to 500x.
Since it was released, Lightning Roulette has become one of the most played live casino games online. Lightning Roulette is one of the most popular Evolution Live casino games and can be found in the lobbies of most online live casinos in the UK.
Features:
High RTP
Lucky number
Lucky payouts
Play at: All British Casino
100% Live Casino Matched Deposit Bonus up to £100 + 10% Cashback on all losses
8. LIVE THREE CARD POKER (RTP: 96.63%)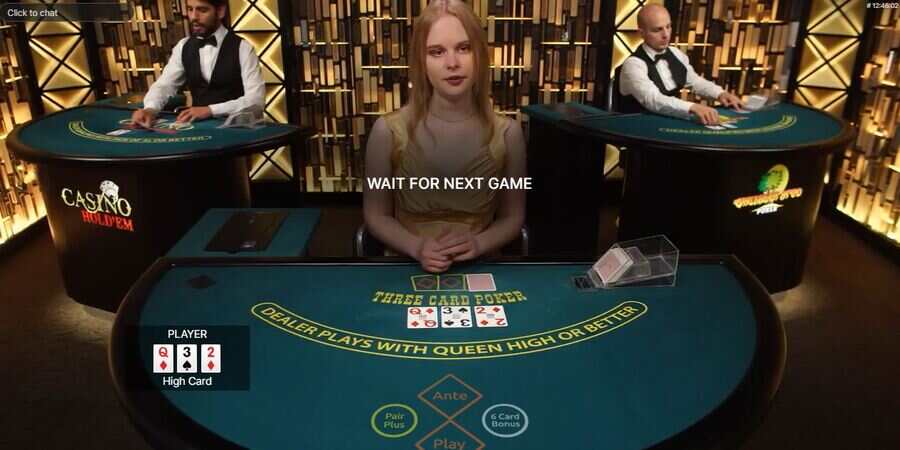 The third and final live poker variation in this TopLiveCasinos guide, Three Card Poker pits the player against the dealer. IN order to win, you must have a higher three card poker hand than the dealer. The highest possible payout in this game is 1000:1, which makes it also one of the best paying live casino games.
You should be aware that in Three Card Poker, a Straight is considered as a higher value hand than a Flush.
Features:
High RTP
Live dealer
Side bets
In-game tutorial
Play at: Mr Play Casino
9. GONZO'S TREASURE HUNT (RTP: 96.56%)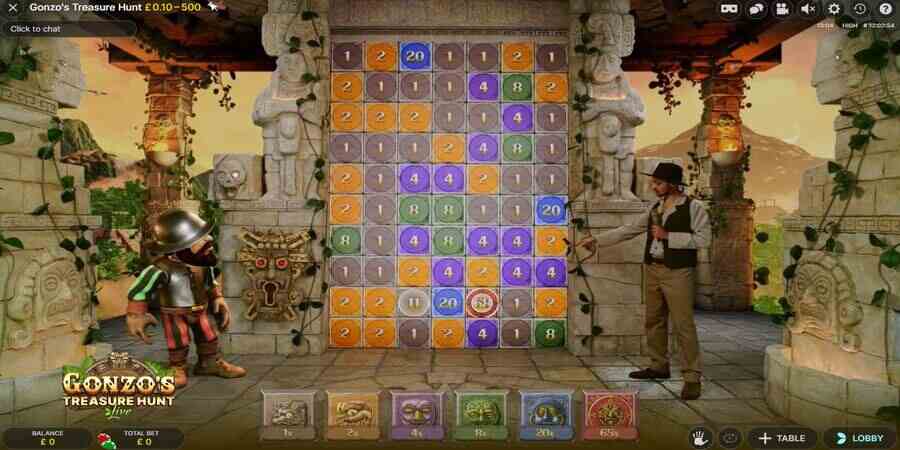 The first gameshow themed live casino game to feature on our list, Gonzo's Treasure Hunt is a live dealer game which utilises world-class technology in order to bring players an excellent and original game.
Although the rules can be a little daunting when you first begin playing, it does not take long to pick the game up. The bonus game revolves around a large wall which is the prize drop. Again, like the majority of other games on this list, Gonzo's Quest is a luck based game so there are no strategy guides for this one. However, it is an incredibly fun game which offers payouts up to £1,000,000.
Features:
Prize Drop
Bonus Prizes
Multiplayer
Re-Drop bonus symbol
Play at: Skol Casino
100% Live Casino Matched Deposit Bonus up to £100 + 100 Starburst Free Spins
10. MONOPOLY LIVE (RTP: 96.23%)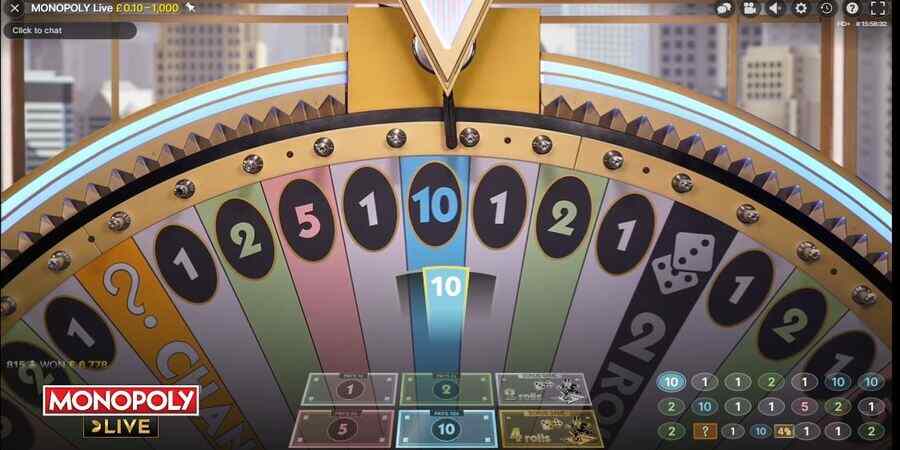 One of our favourite live casino games of all time, Monopoly Live is a subversive live casino game themed around the Monopoly board game. The bonus game features a 3D Monopoly board where players can win huge multipliers.
Before the bonus game is triggered, the dealer spins a live gameshow-esque wheel . There are three segments on the wheel which will trigger the bonus game. Another easy game to play, Monopoly live is a new game from Evolution Gaming. If you do decide to play this high RTP casino game, then we can recommend reading our Monopoly Live strategy guide before you play.
Features:
Excellent graphics
Free spins
Bonus game
High max payout
Above average RTP
Live dealer
Play at: Casumo Casino
100% Live Casino Matched Deposit Bonus up to £25 + 20 Sahara Riches Free Spins
HIGH RTP LIVE CASINO GAMES EXPLAINED
The return to player percentage of any particular casino games determines, in theory, the amount you can expect to lose when you play a particular casino game.
For example, Video Poker is widely regarded as the live casino game with the highest RTP – 99.56%. This means that for every £100 bet on Video Poker, the player will receive £99.56 in return. This means that for every £100 you play with, you will lose £0.44.
Of course, this is just in theory over tens of millions of spins. This does not take luck and skill into account. In reality, how much you win when playing live casino games depends just as much on luck (sometimes skill) as it does which game you play. Simply because Monopoly Live has an RTP of 96.23% does not mean that for every £100 you wager you will win back £96.23. This is just a theoretical assumption. If this was true, then playing casino games would not be much fun.
It is easy to remember that RTP is the opposite of a house edge. If you see a house edge of 1%, it means that the game has an RTP of 99%. This means that the casino makes £1 on every £100 wagered in the long run.
HELPING YOU DISCOVER WHERE TO PLAY LIVE CASINO GAMES WITH HIGH RTP'S AT UK LIVE CASINOS
Our team understands that UK gamblers are always on the lookout on where to find and play the best value live casino games. Finding the best RTP casino games can be a challenge, which is why we hope our guide to the best RTP casino games has helped you.
You should never forget that just because a game has an above average RTP does not mean that you are guaranteed to win. However, it can be a good indication that you are more likely to win money in the long-run when playing these games.
Please do not forget that there are other factors which help determine the best value for money casino games. For example, the casino games with the best payouts will give you opportunities to win large amounts of cash, even if the RTP is not particularly competitive.
You can find our pick of the UK live casino's which offer you the opportunity to play the best odds live casino games. For further info, please ready our live casino reviews page.
CONTRIBUTORS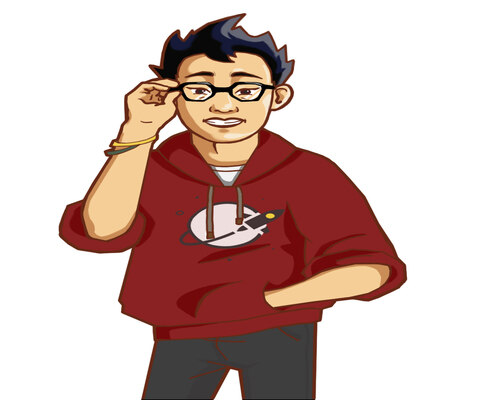 Greetings, I'm Rupert Zeng
Rupert Zeng is a recent graduate and is responsible for all the guides on TopLiveCasino. Rupert loves everything about the technical aspects of live casino games. He also loves coffee.
Technical analyst since 2022